Living Elements Pty Ltd Blog
---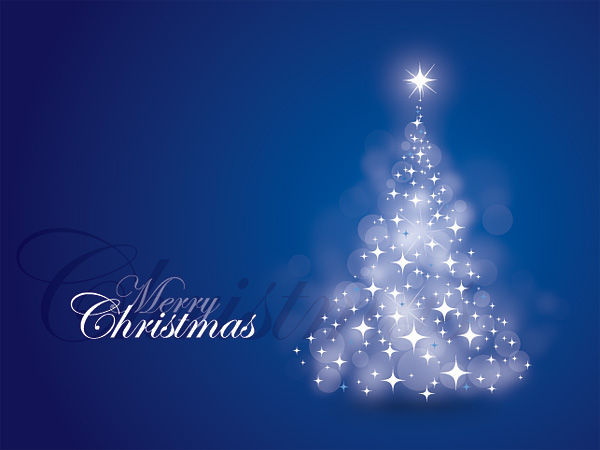 Dear friends of Living Elements,
Gosh, it's hard to believe its Christmas already! 2015 certainly has flown and here we stand again at the brink of a new year.
As we reflect on the past 12months a couple of thoughts come to mind.
Firstly here at Living Elements we're thankful for what has been a very good year. The business has continued to grow and we've built some very positive relationships along the way.
Secondly, at Living Elements we really value our customers and acknowledge that the cornerstone of any successful business is happy, contented customers. We actually know if you're extremely happy with the product and service that we provide then often your goodwill we promote our business more effectively than any of our clever marketing strategies. This is happening so we'd really like to thank you for your support in 2015 and look forward to assisting you further with any other furniture needs that may arise.
Finally we really do wish you and your family a very Merry Christmas and a Happy New Year. We trust that you stay safe during the holiday period and enjoy a refreshing and relaxing break. We look forward to seeing you in the New Year.
Season Greetings,
The team at Living Elements
---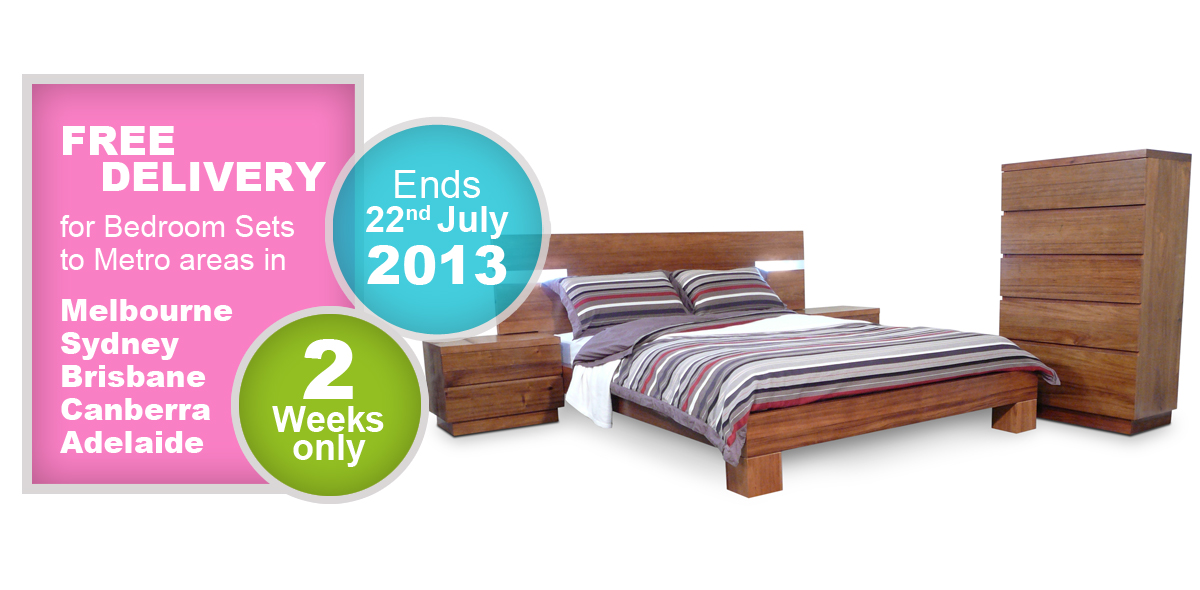 For two weeks this month we are running a super promotion on our bedroom packages. The sale runs from the 7
th
-22
nd
July. Get in quick to secure a deal, for the most part stock levels are good however stock is limited and no doubt will sell out of certain styles. The sale is available for customers who are having their goods delivered to metro areas in Melbourne, Sydney, Brisbane, Canberra and Adelaide. For those of you who live outside these areas feel free to drop us a line on 03 9794 6509 and we will do our best to look after you too!
Check out the full range of bedroom sets here..
---
We've compiled this little buyer's guide - a shortlist of questions you should ask when shopping around for furniture. This here is part three in the series.There are four parts which we will feature over the coming weeks and address the following important questions.
* Does the unit come assembled or do I have to put it together?
* What is it made from? Is the unit solid timber, veneer or other?
* What drawer runners/slides are used?
* Are the drawers dovetail joined?
What drawer runners or slides are used?
There are three main types of drawer runners used in the construction of furniture. These are the parts of the drawer which allow it to slide in and out.
TIMBER
Timber runners are the old school traditional method for making drawers in furniture,
see photo B
. Timber runners can be problematic if they are not made correctly, the drawers can be sticky and hard to pull in and out, and there is little support when the drawer is pulled to its most open point, meaning the front of the drawer will drop down - this is unavoidable with timber runners. If you are looking at a piece with timber runners, check that there is movement within the drawer runner frame and the actual drawer itself. It's always good to have a little bit of space to allow for natural expansion and contraction in the timber. Without space the drawers can bind, but with a little space the drawer will slide smoothly for years to come.
METAL
Metal runners are generally the superior choice,
see photo A
Photo A illustrates a full extension type runner which is one of most simple and effective runner types getting around. They have a telescopic type action and metal bearings which will generally glide beautifully and will allow full extension of the draw. As well as having smooth action they remain completely upright when the drawer is pulled out. Metal runners do give a better opening action as a rule but check for yourself and get a feel for how each drawer works.
As you are checking the full extension runners out you may notice that the drawer is hard to pull out initially and hard to press back closed (say, the last 4mm). This is because some of these runners have a stopper inside which holds the drawer closed; this is a normal feature for some metal runner types. You can usually tell by pulling the drawer out (it will be hard to pull for the first 4mm) and closing it. If the runner has this feature it will jut out 3-4mm, but if you push hard on the drawer closed you will feel it click into the closed position and return to flush.
Photo B illustrates the non telescopic metal runner. You will find the drawer will open around 4/5
th
of its depth, should glide easily and will remain upright when fully extended. These are not as slick as the telescopic runners but can be a good option.
SOFT CLOSING METAL DRAWER RUNNERS
Soft closing drawer runners allow the drawer to close... well... softly. To open the drawer you will find resistance for the first few inches, but when closing you can push it shut leaving the last two inches hanging out and a mechanism inside will take over the rest and close the drawer automatically. These are a pretty nifty feature with varying grades of quality. As with all runners, you want to get a feel for how they operate, and how sturdy the drawer is when fully extended. Common sense will usually tell you if you have a winner.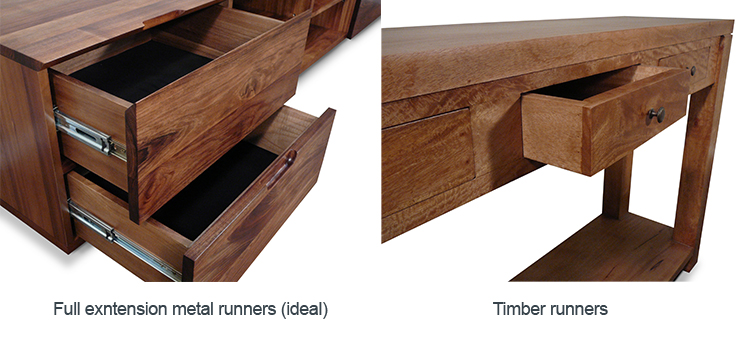 Another thing you can do when shopping around is try to pull a drawer completely out to see what happens. You'll find that some will stop before coming all of the way out and others will come out in your hand. It's personal preference as to what will work best for you. Give the drawer a few goes and feel the action - is it stiff or tight? Does it fall out when fully opened? Does it have support when fully opened? For me, the action on the runners is best when they glide smoothly and stay upright when opened, particularly if you are storing heavier objects. In most cases, you'll find you get the best support from the full extension type runners, but let your own judgement decide and get a feel for how different drawers open and close. Think smooth. Also consider how much you will use that particular drawer, because the more use it will get, the better quality runner you will require.
---
Also worth a mention this month are some of the new bedroom ranges we have on board. They are available as packages or in separate pieces including king and queen beds, bedside tables, dressers and tallboy chests. Business as usual, some nice timber designs well made and built to stand the test of time. Available in Tasmanian blackwood, Tasmanian Oak, Jarrah and Ash. If your in the market for some new bedroom pieces you can check out our humble range
here.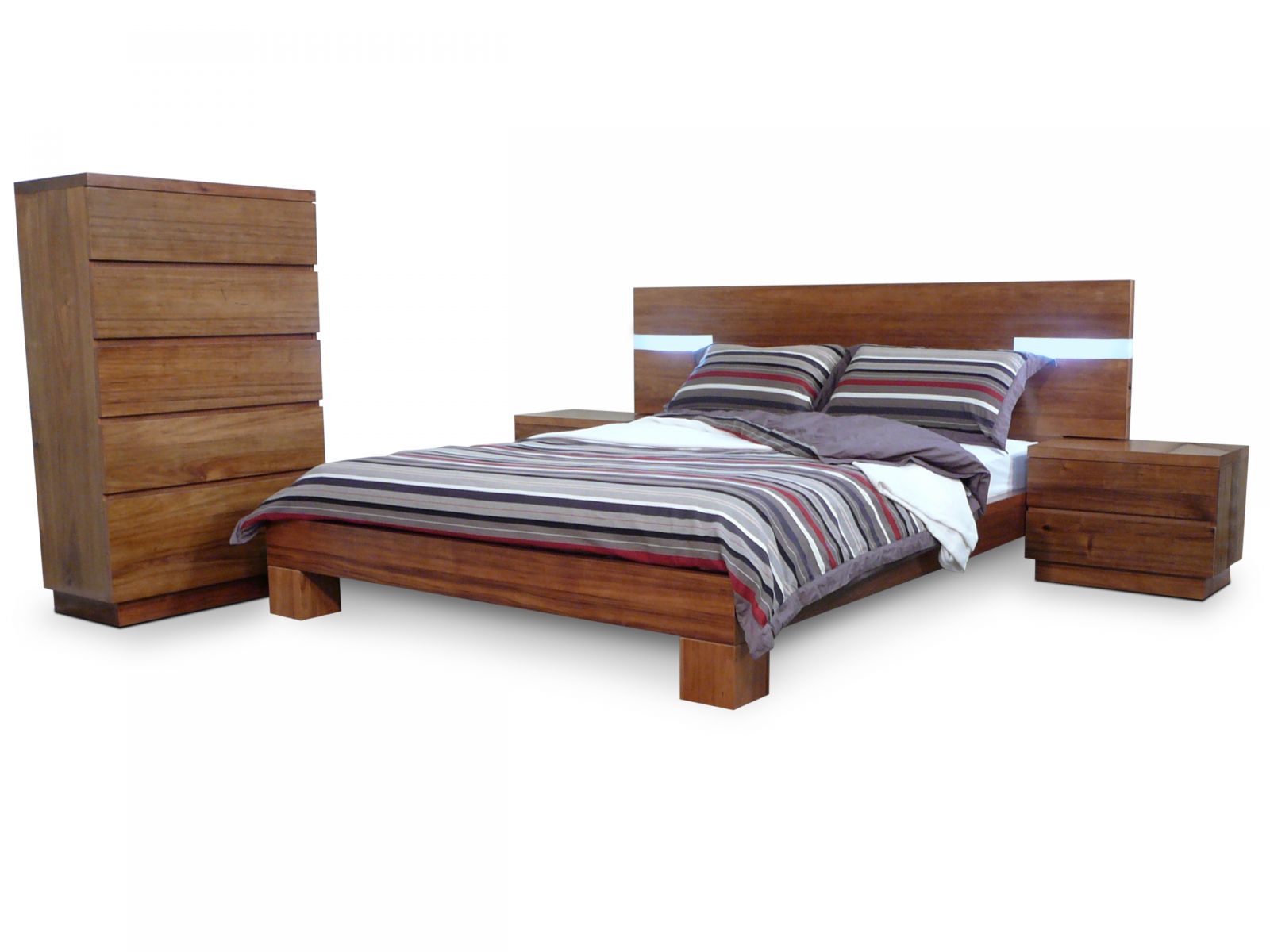 ---
We've compiled this little buyer's guide - a shortlist of questions you should ask when shopping around for furniture. This here is part two in the series.There are four parts which we will feature over the coming weeks and address the following important questions.
Does the unit come assembled or do I have to put it together?
What is it made from? Is the unit solid timber, veneer or other?
What drawer runners/slides are used?
Are the drawers dovetail joined?
Is the unit solid timber, veneer or other?
A range of materials can be used to build a piece of furniture. Popular hardwoods include ash, oak, blackwood and jarrah. There are softer woods like pine, and also man-made timbers like MDF or laminated particle board. Living Elements predominantly uses solid timbers (hardwoods and pine), which is a great attribute to a quality piece of furniture. Solid timber pieces can lead many different lives and can be stained, painted or restored to its original finish. You can't go past solid timber for durability and longevity, because solid timber can always be restored. On the flipside of solid timber are veneers. Veneers comprise of a film of timber, vinyl or PVC which is applied to a core of either particle/chip board or MDF (man-made timbers). These strips of material can vary from 0.5mm-4mm thick and are glued to the particle/chip board or MDF core, like a sandwich with the man-made timber inside and the veneered finish on the outside. Veneers and timbers both have varying grades of quality.
Let's have a look at some of the positive points of veneers. Price-wise they are cheaper to manufacture than a solid timber. Interestingly though, because the core of the veneered timber is man-made, it can be far more resistant to expansion and contraction from hot to cold (but not from moisture). It is common practice for furniture manufacturers to use a combination of solid and man-made timber for the main surfaces of a product (say for example a chest of drawers); all the drawer fronts, the top and frame would be solid timber, while the inset side panels would be a timber veneer. This method reduces the weight of the product as well as the cost.
But veneers have their negative points. They can be sensitive to moisture and if wet or exposed to heavy moisture the strips of laminate can separate from the core or the core may absorb the moisture and swell, leaving bubbles and lumps in some areas and delaminating. Veneers can be sensitive on the edges where two seams meet on the sides and corners, causing chips and peeling. How sensitive veneers are to these elements comes down to the quality of the veneer which can be hard to tell unless you know what you are looking at. Some giveaway signs of an inferior veneer are noticeable by looking at the seams on the corners and edges; you may notice the film peeling off in parts or a noticeable seam along the edge. Some timber veneers also lack depth in the look of the timber grain compared to solid timber, so if the grain doesn't look alive it may be a veneer.
Another common material for furniture manufacturing is a painted surface; they come in high gloss (shiny), satin and matt (dull) finishes. Broadly speaking, painted finishes are best to be applied to MDF. Although MDF has some negative points, its best feature is the fact that it is majorly resistant to expansion and contraction with heat and cold. This is ideal for a smooth painted finish and means it will be much more resistant to cracks or hairline fractures in the finish over time. Ideally, if you are buying a painted timber product I would recommend buying something made from MDF for this reason.
Timber, once a living and breathing thing, has the potential to split and crack. Most people aren't aware of this but it has a lot to do with the moisture content of the timber at the time of manufacture. Timber needs to be dried from the state of a living breathing tree to a stable mouldable medium for furniture making. The Australian climate is somewhat harsher and varied compared to some other places in the world, and ideally the moisture content of the timber needs to be around 10% to allow for Australia's natural climate fluctuations. It is this one point which separates the good manufacturers from the bad, as many get this seemingly simple step wrong, causing splitting and cracking of your furniture down the track. All of our timber products require no more maintenance than a damp cloth. Our products are finished with a clear varnish which means the timber surface is fully sealed and protected from moisture and greasy deposits. The sealant enhances the grain and allows its amazing tonal variations to show through. It also means old school oils and waxes are not required.
If you would like to discuss any of the points in this article or a particular piece you have been contemplating you are welcome to reach us on 03 9794 6509 to have a chat.
---
Yes indeed folks the long awaited Bondi is back, we have just received a new shipment of this truely amazing range. It is made from solid feature grade Tasmanian Oak in a natural finish and sealed with a clear varnish. It has a number of matching pieces including tv units, a coffee table, buffet, dining tables and settings, hall and lamp tables. The style will turn heads and it is something people often comment on when viewing at our warehouse. You can see for yourself
here.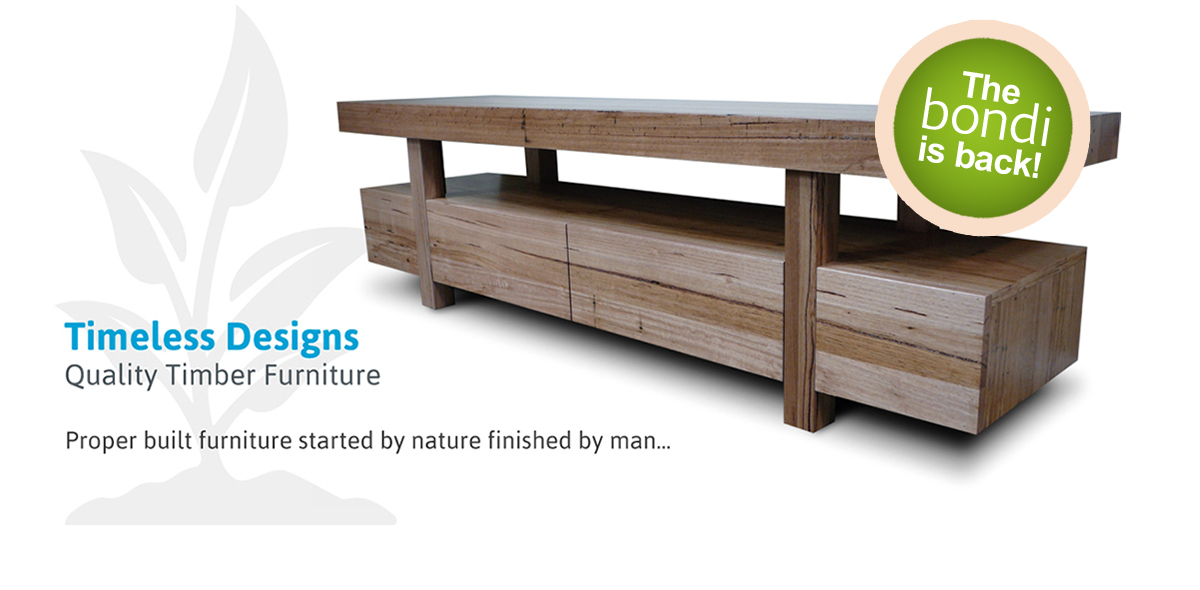 ---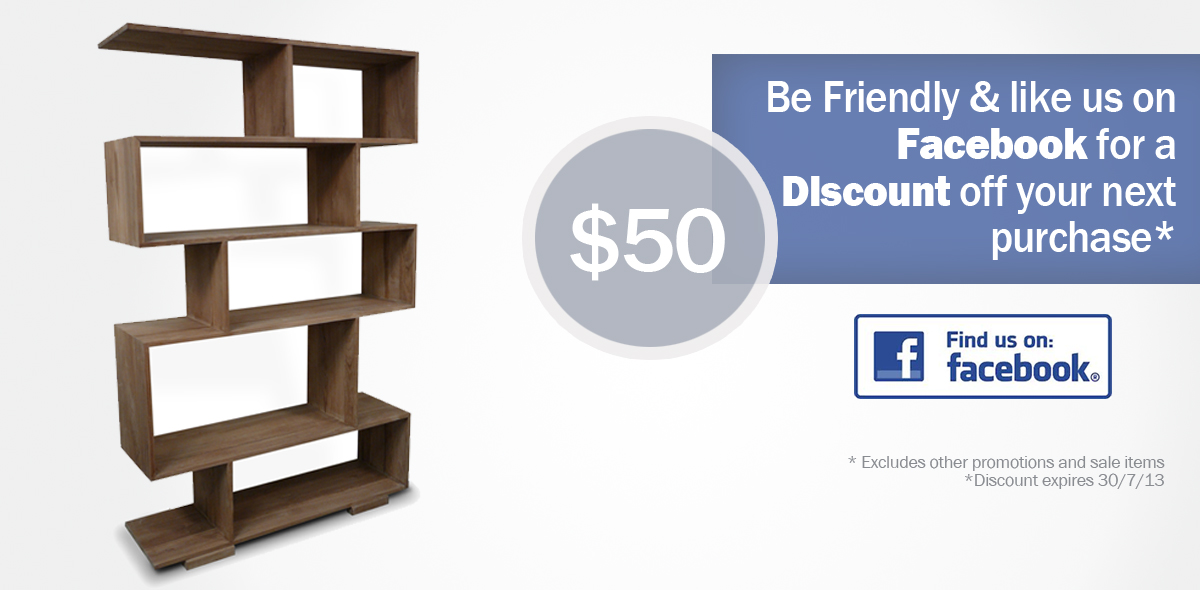 Hey Guys,

Just a quick note to fill you in our our latest promotion..although Living Elements been around for 6 years or so, were only just new to the whole social media/ facebook community. So we are trying to connect with people who are passionate about timber furniture and hopefully provide some useful information and deals along the way. In short we need friends..and that means you!!

To be eligible for the discount you need to like and comment on the competition post our face book page and answer the following question.

WHAT WOULD YOU DO WITH A SPARE $100, 000
Click here to enter..
* For purchases made on livingelements.com.au
* Excludes other promotions and sale items
* Discount expires 30/7/13
---
So you've decided to update your living space, dining area or bedroom. Sure, that swanky little piece you saw in that fancy shop looks great, but will it stand the test of time? It's true that finding the perfect piece can be intimidating if you don't know how to spot quality workmanship, and that's why we've compiled a little buyer's guide - a shortlist of questions you should ask when shopping around for furniture. There are four parts which we will feature over the coming weeks and address the following important questions.

Does the unit come assembled or do I have to put it together?

What is it made from? Is the unit solid timber, veneer or other?

What drawer runners/slides are used?

Are the drawers dovetail joined?


Does the unit come assembled or do I have to put it together?
There are pros and cons for both RTA (ready to assemble) and factory built furniture. Flat packed or RTA furniture is generally well priced due to a number of factors including reduced volume for shipping, generally cheaper materials used like particle board or MDF (man-made timber) and the fact you need to assemble the furniture yourself. For these reasons it can be a good option for the budget conscious.
By its nature and depending on the specific item it can be quite tricky to put together and there are several negative points. Broadly speaking this type of furniture is not as structurally sound as factory built furniture and it is commonly found that these pieces can become a little rickety after moving them around the house or a new location. These products do have a limited lifespan.
Another drawback for RTA furniture talking in general terms is the materials used, being either a veneer which can peel, chip and split easily or a painted finish which can wear and chip also. Of course, there's no doubt that there is good quality, solid timber RTA flat pack furniture out there, but they are few and far between.


The other side of the coin is factory built furniture, proper built furniture with no assembly required. These are complete pieces which are made at the point of manufacturing by skilled tradesmen using joinery methods. The result is generally a much more substantial piece of furniture which is sturdy, strong and built to stand the test of time. There are varying grades of this type of furniture depending on the materials and methods used, but across the board this type of furniture is better in comparison and can last a lifetime and a massive headache if you are rubbish at putting things together.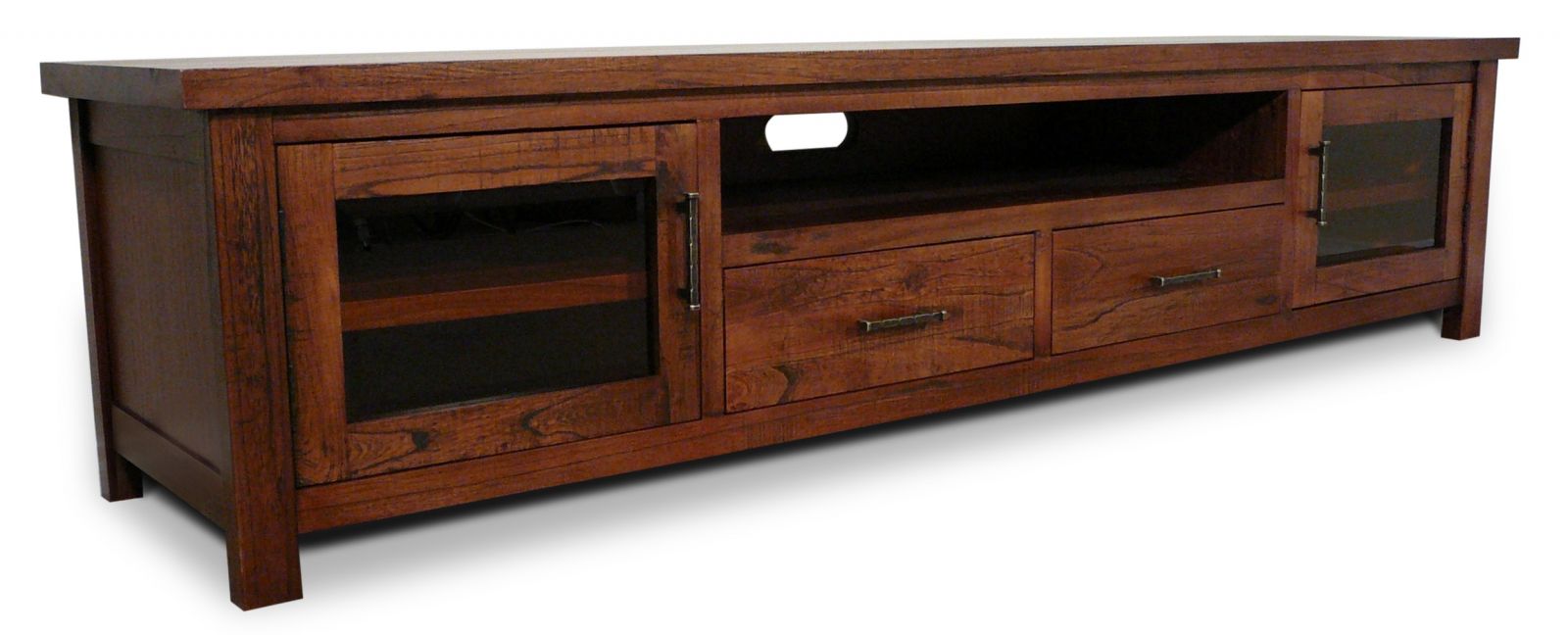 ---
Welcome to the jungle - or should we say jumble. At Living Elements it's a jumble-jungle of quality timber furniture at wild prices. It's the one place where you can find that perfect piece to fit any spot; the piece that you'll love and others will admire for many years to come.

Living elements strives to provide quality timber designs that add warmth and life to our customers homes, years from now your furniture will have some great stories to tell and we would love to hear them.
Do you have any feedback, comments or questions? We'd love to hear from you
mail@livingelements.com.au
or if you like, you can give us a call on
03 9794 6509
.
And did you know that you can
create a wishlist
on the Living Elements site? Use it to keep track of things you'd love to own, or to send a (not-so) discreet email to friends and family with gift ideas.
While you're here, why not sign up to our monthly newsletter? You'll be kept in the loop about current sales, exciting new deals, trends and styles as well as competitions and giveaways. We'll also give handy tips and advice on selecting timber furniture and plenty more. It's easy to register – click here
newsletter sign up
.
Watch this space and we look forward to talking with you soon.

The Living Elements Team
---